HK Entertainment News Roundup
Saturday, March 19, 2005
The most recognised face of HongKong's DIY musician.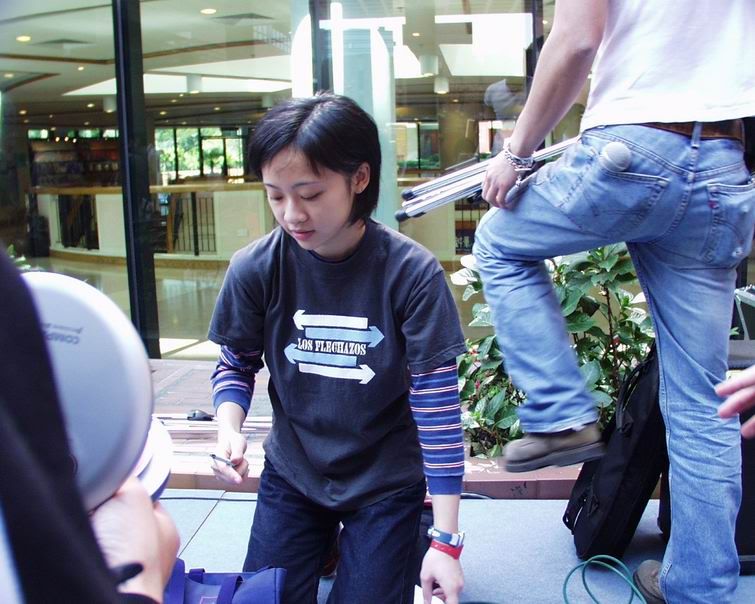 The Pancakes
, a household name in Hong Kong's music even though it differs from the mainstream pop, is actually a solo effort by Dejay.
Dejay is the brains behind the acclaimed cartoon McDull's OSTs and the voice for Ms Chan Chan (hope that rings a bell). Little is known about her private life. All she would reveal is that she works as a librarian in the day and she graduated from University of Hong Kong. She reasoned that she has given most of her time to music-making, the mundane job will help keep her life balanced.
The Pancakes was derived from a song that Dejay loves and no, she's not particularly fond of pancakes. Dejay doesn't like the hassle of producing albums for local labels, she hates the "time-wasting" brainstorming sessions and meetings. She also prefers not to have jamming sessions with peers because she decided that she is demanding and domineering when it comes to music- making. Another quirk of Dejay is her dislike for being photographed and the use of her Chinese name.
Till date, The Pancakes has released several albums. Her debut album was produced with her savings and it caught the attention of a Spanish recording label. Now, The Pancakes' albums enjoy a niche market in Europe and Japan.
The Pancakes has kept busy by organising concerts, writing columns in journals, dabbling in OSTs for McDull, providing background music for commercials and performing at concerts.
This news site is not affiliated with either Yahoo or Sing Pao News and is simply a fansite created for HK Entertainment fans throughout the world. Images and original reports are the copyright of the appropriate owners.
HK Ents News Roundup is a non profit-making site. Copyright 2003 © All rights reserved.