HK Entertainment News Roundup
Tuesday, September 16, 2003
[Singpao News]
Andy Lau with director Lau Wai Keung
It was raining heavily yesterday but that did not stop the filming schedules of Andy Lau and Leon Lai. Both of them were seen on location together with Lau Wai Keung.
Both superstars of Hong Kong were in a gay mood and were friendly towards visiting reporters. It was especially evident with Leon Lai, he started greeting everyone soon after alighting from his vehicle.
Coming Soon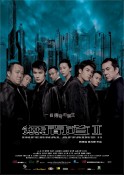 Part Two of the
Infernal Affairs
will be hitting Hong Kong screens on the
1st October 2003
. It is
National Day
for China. Perhaps, the producers are hoping to cash-in during this public holiday.
Sunday, September 14, 2003
[the-sun news]
Tony Leung Chiu Wai is really a popular star in China. His adopted pandas made a special journey from Sichuan to ChengDu to meet their adopted owner. The adoption ceremony will take place on September 16, at the five star hotel where Tony Leung is currently staying. The young pandas will be staying in a special suite in the hotel during their visit.
[Oriental News]
Gigi Leung fell victim to the Hong Kong parapazzi again. Her family and she had to stay away from their apartment when two men were spotted loitering outside her premises. Gigi was lucky that her neighbor and the security at the lobby were alert. Gigi's neighbor called her to warn her not to go home fearing for her safety and the security guard reacted promptly by informing the police to investigate.
Gigi later made a plea to the parapazzi to stop disclosing artistes' addresses to the public. She was worried that these disclosures might cause unnecessary stress to the family members' of artistes and might also expose them to unforseen perils.
This news site is not affiliated with either Yahoo or Sing Pao News and is simply a fansite created for HK Entertainment fans throughout the world. Images and original reports are the copyright of the appropriate owners.
HK Ents News Roundup is a non profit-making site. Copyright 2003 © All rights reserved.