HK Entertainment News Roundup
Monday, January 12, 2004
FAREWELL ANITA MUI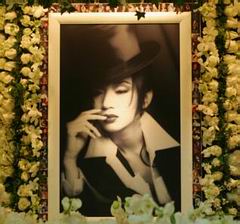 Today is Anita Mui's funeral and she will be cremated.
At Anita Mui's funeral service today, the bearers of Ah Mui's coffin will be Andy Lau, Eddie Lau, David Tao, Tony Leung, Li Yin Fai, So How Leung, and her 2 female best friends, Cheung Mun Yee (she is the ex department head of the Broadcasting department) and Michelle Yeoh. Bearers are meant to help the deceased to walk the last trip in this world. According to custom, bearers must be male, as female is traditionally thought to have too much "Yin", so not suitable to be bearer. But this time, it breaks the tradition, 2 of Ah Mui's best female friends will be the bearers for her. This list of bearers is approved by Mui Ma.
The funeral will follow the Buddhist traditions. First, friends will give speeches. Poems will be read. At noon, the hearse will leave the funeral parlor. The funeral hall is decorated in an elegant white, lit by candles and filled with Anita's favorite foods, such as apples, mangos and cheesecake.
Thousands of mourners packed the street at the HongKong Funeral Parlor to pay their last respects to the Canto- pop icon.
[The Sun/Oriental Daily]
As the hearse carrying Anita's coffin to the crematorium drove through the streets, hundreds and thousands of fans and citizens had to be held back by a cordons and barriers as they all crowded the pavements to catch a glimpse and say a goodbye to a star who has risen from lowly beginnings to become the superstar and icon whom we all love and remember. Tossing flowers onto the roads, they made a path of petals to line Anita's path as emotions ran high and some people shouted out to the passing vehicle that bore Anita's image in the passenger window: "Anita!" and "Go in Peace, we will always love you."
Overcome by emotion at the crematorium, Anita's elder brother suffered an asthma attack and had to be rushed to hospital. Mui Ma was very upset, but was supported by her family and friends and somewhat comforted that amid the sadness of Anita's death, she has made amends with her son-in-law. Despite Anita's instruction not to be sad for her death, good friend Anthony Lun was very shaken as everyone at the ceremony cried with bowed heads as they could not bear the sorrow of saying goodbye to Anita one last time.
As the thin cloud of smoke rose from the crematorium, Anita's friends believe that she has found her Nirvana as they remember the words from "Where does the love go" saying:
No matter if you go to the ends of the earth, there will be a place where I will be...
Pictures from Singpao, muimusic.com and channelnewsasia.com
News from muimusic.com and HKPVR
Additional Material from Oriental Daily & The Sun
Sunday, January 11, 2004
On the eve of Anita Mui's final journey to her final resting place, a public mourning ceremony was held at the funeral parlour today and with Anita's sincerity and good spirit earning her many friends, hundreds of people gathered to pay their final respects to a friend, colleague, idol, mentor and icon that will be sorely missed. Good friends such as Josie Ho went against the traditions following her own recent marriage to act as an usher at the ceremony, Anita's beloved students gathered the previous night to burn offerings to her including a replica of a stage and fellow stars including Jackie Chan, Aaron Kwok, Gigi Leung, Joey Yung, Nat Chan, Edmond Leung, Nic Tse, Dicky Cheung, Gilbert Lam, Cally Kwong and David Tao all appeared to say their goodbyes to Anita. Although Anita did not fulfil her wish to have a happy and fruitful marriage, many of her past lovers appeared to bid farewell to a woman whom they still feel very strongly for. A token flower basket was presented on behalf of Leslie Cheung by his partner Tong Tong. A visit was also made by political student leader Wuer Kaixi and People's Affairs Secretary Ho Chi Ping, as well as other stars who paid Anita a last visit including Stephen Chow, Michelle Yeoh, William So, Andy Hui, Charlene Choi, Kenny Bee, Yu On On, Alex To, Alex Man, James Wong, Johnny Tang, Hacken Lee, Jerry Lamb, Ng Yuen Fong, Elaine Ng and Dik Bor Lai.
Hundreds of fans also crowded around and into the hall, braving the cold as they showed gushes of emotion for their idol, offering flowers, paper items, wreaths and cards. In the early evening, a group of fans lined up outside the funeral parlour and gently sung some of Anita's songs as a mark of respect and in memory of this remarkable queen of the stage. They chose the song "Where Does Love Go" as it has a slow and a fast rhythm that suggests Anita's will for them not to be sad. Fans arrived from Shanghai and Singapore and indicated that upon the news of Anita's death, the International Fan Club had arranged a series of mourning activities, including wearing black mourning clothes and to offer a white rose.
In the space of three hours, over six thousand people passed through the hall to pay their final respects to Anita, including her mother, who arrived at around noon. Mama Mui was a little reluctant to go to the side room and see her daughter lying in state, for fear of the painful experience, however, with the encouragement of close friends, she agreed to see her daughter for a final time. The strong mother broke down as the emotions were too overwhelming, showing what a devastating loss Anita's death was to her and everyone who loved her.
Pictures and News from The Sun and Oriental Daily
http://www.orisun.com
[OrientalDaily News]
Since entering showbiz, Gigi has make it a point to give out red packets to all her colleagues during the Chinese New Year. This year, she intends to give red packets that are worth of thousands. She revealed that the company has decided to let all staffs to go on vacation during the festive season. So, Gigi will be taking a break with her family whlist Ekin Cheng might not be able to join her as she understands that he has work to do.
[OrientalDaily News]
Donnie Yen is going to be a dad again.
Donnie has left his work in HongKong for Canada to be his wife, Wang Shi Shi.
They are expecting their second child, a daughter. Donnie is elated as he already has a son.
He would only resume his work after March. Thereafter, he will be directing, acting in a new movie and he will be acting in a mainland serial.
This news site is not affiliated with either Yahoo or Sing Pao News and is simply a fansite created for HK Entertainment fans throughout the world. Images and original reports are the copyright of the appropriate owners.
HK Ents News Roundup is a non profit-making site. Copyright 2003 © All rights reserved.