HK Entertainment News Roundup
Monday, January 12, 2004
FAREWELL ANITA MUI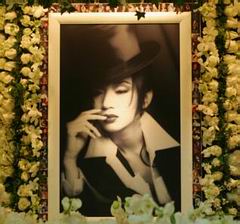 Today is Anita Mui's funeral and she will be cremated.
At Anita Mui's funeral service today, the bearers of Ah Mui's coffin will be Andy Lau, Eddie Lau, David Tao, Tony Leung, Li Yin Fai, So How Leung, and her 2 female best friends, Cheung Mun Yee (she is the ex department head of the Broadcasting department) and Michelle Yeoh. Bearers are meant to help the deceased to walk the last trip in this world. According to custom, bearers must be male, as female is traditionally thought to have too much "Yin", so not suitable to be bearer. But this time, it breaks the tradition, 2 of Ah Mui's best female friends will be the bearers for her. This list of bearers is approved by Mui Ma.
The funeral will follow the Buddhist traditions. First, friends will give speeches. Poems will be read. At noon, the hearse will leave the funeral parlor. The funeral hall is decorated in an elegant white, lit by candles and filled with Anita's favorite foods, such as apples, mangos and cheesecake.
Thousands of mourners packed the street at the HongKong Funeral Parlor to pay their last respects to the Canto- pop icon.
[The Sun/Oriental Daily]
As the hearse carrying Anita's coffin to the crematorium drove through the streets, hundreds and thousands of fans and citizens had to be held back by a cordons and barriers as they all crowded the pavements to catch a glimpse and say a goodbye to a star who has risen from lowly beginnings to become the superstar and icon whom we all love and remember. Tossing flowers onto the roads, they made a path of petals to line Anita's path as emotions ran high and some people shouted out to the passing vehicle that bore Anita's image in the passenger window: "Anita!" and "Go in Peace, we will always love you."
Overcome by emotion at the crematorium, Anita's elder brother suffered an asthma attack and had to be rushed to hospital. Mui Ma was very upset, but was supported by her family and friends and somewhat comforted that amid the sadness of Anita's death, she has made amends with her son-in-law. Despite Anita's instruction not to be sad for her death, good friend Anthony Lun was very shaken as everyone at the ceremony cried with bowed heads as they could not bear the sorrow of saying goodbye to Anita one last time.
As the thin cloud of smoke rose from the crematorium, Anita's friends believe that she has found her Nirvana as they remember the words from "Where does the love go" saying:
No matter if you go to the ends of the earth, there will be a place where I will be...
Pictures from Singpao, muimusic.com and channelnewsasia.com
News from muimusic.com and HKPVR
Additional Material from Oriental Daily & The Sun
This news site is not affiliated with either Yahoo or Sing Pao News and is simply a fansite created for HK Entertainment fans throughout the world. Images and original reports are the copyright of the appropriate owners.
HK Ents News Roundup is a non profit-making site. Copyright 2003 © All rights reserved.