HK Entertainment News Roundup
Tuesday, September 16, 2003
[Singpao News]
Andy Lau with director Lau Wai Keung
It was raining heavily yesterday but that did not stop the filming schedules of Andy Lau and Leon Lai. Both of them were seen on location together with Lau Wai Keung.
Both superstars of Hong Kong were in a gay mood and were friendly towards visiting reporters. It was especially evident with Leon Lai, he started greeting everyone soon after alighting from his vehicle.
Coming Soon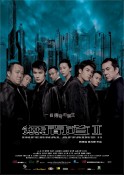 Part Two of the
Infernal Affairs
will be hitting Hong Kong screens on the
1st October 2003
. It is
National Day
for China. Perhaps, the producers are hoping to cash-in during this public holiday.
This news site is not affiliated with either Yahoo or Sing Pao News and is simply a fansite created for HK Entertainment fans throughout the world. Images and original reports are the copyright of the appropriate owners.
HK Ents News Roundup is a non profit-making site. Copyright 2003 © All rights reserved.