HK Entertainment News Roundup
Friday, July 01, 2005
Album Review
Evolution Theory(天演論), Candy Lo Hau Yam [CD,Cantonese+Mandarin] 14/06/2005
01. 露西 (3,180,000 B.C. - )
02. 天外飛仙
03. 阿修羅樹海
04. 隔岸觀音
05. 一念天堂
06. 步天歌
07. 女書
08. 笛卡兒的長生殿
09. 送魂經
10. 敵托邦的拾荒姑娘
11. 阿修羅樹海(國)
12. 露西 (3,180,000 B.C. - )(國)
Before I start, I saw some unflattering and damning reviews of Candy Lo's Evolution Theory. The reviewer was particularly peeved by the album's theme. Interpreting it as evolution versus creationism. Another thing was alleging that this album was a pure piece of junk and "the songs are pointless with no genre..."
I was wondering whether these reviewers has a decent grasp in the Chinese Language to understand the messages in the lyrics which was pointedly simple to made for understanding. Anyway, the album wasn't about Evolution versus Creationism. The idea was just to base loosely on the theme about Evolution and Ethics (the Chinese title indicated so). The lyrics also reflected as such.
No genre? I guess the reviewer choice of music listening is very much shallow. You could easily file this album under Progressive Rock, or even call it British Rock since it reminded me very much of Beatles' Strawberry Fields Forever and Across the Universe. After churning out commercially successful albums aimed at pleasing the masses, Candy Lo did an about- turn and released this. It might take some time to get used to the music in this album. Nevertheless, there were some tracks that I really loved like track04, 05, 08, 09 and 10.
Backtracking to Candy Lo's vocals, I thought she is a better singer than she was, there's variation, techniques and range. I was appalled when some fans decided that Candy doing a
la-Sinead o' Connor
is the true Candy. Though, it was quite disheartening that she's still not competent as a live performer.
Though the music's backbone was primarily guitars, drums and bass, the generous use of strings ensemble and the occasional wind instruments were also used for enhancement and accompaniment. Then the synthesizers were also used to spice up the arrangement.
This is one album that the listeners have to really understand the lyrics to appreciate the music. I appealed to listeners at large to pump up the volume and listen to it from track01 to track10. It's a worthy album. And thumbs up for the tasteful and sensual album cover.
Ratings: A
Wednesday, June 29, 2005
Album Review
Yumiko's Space, Yumiko Cheng [AVCD, Cantonese] 21/06/2005
01. Computer Data
02. 阿拉伯市場 (MV)
03. 阿拉伯市場
04. 想
05. 收到
06. 懶音詩人
07. 閃
08. 失傘
09. 遊魂
10. 黃金海岸
11. 迷失
12. 想 (國語)
13. 風雷電
I remember a conversation with an online chat buddy about HOCC's previous release. I was expressing my disdain while she defended HOCC by saying she was trying to be 80s retro etc. Well, I think Yumiko Cheng did a better job with Yumiko Space.
Yumiko is a lousy singer by any standards. Her voice is flat, pitchy and no sense of rhythm. In short, any American Idol wannabes sing way better than her. Even the little kid in Caan Ho Jat Ding is more credible than her.
I guess the producers, Eric Kwok and Carl Wong, are well aware of Yumiko's inadequacies in the vocal department. Instead of torturing Yumiko and listeners at large by making her sing ballads and any song that demand some vocal techniques, they chose to produce an album loaded with Euro beat, disco and dance (very 80s) fusing it with synthesized pop and arrangements.
Listening to the album, it was like a visit back to the days of A-ha, Erasure, New Order, Depeche Mode etc. When I heard track09, I thought it sound too much like a tune from a Taiwanese songtress from the 80s . Track12 is the mandarin version of track04, but the producers bothered to give it a different arrangement. It sounds groovier and a perfect track to play at dance floors. There's only one track with a slower tempo, accompanied by the piano. Yumiko managed to pull it off; at least it was a pleasant experience. Like the touch of the bird chirping at the closing, has a calming effect.
Overall, the tunes are upbeat and groovy. It was quite a good listening experience. I don't think the songs in this album would be chart- toppers and definitely not for folks that love k songs. I thought this is a lovely effort.
Ratings: B
Tuesday, June 14, 2005
Album Review
U87
, Eason Chan Yik Sun [CD+DVD, Cantonese+Mandarin] 07/06/2005
01. 爛
02. 阿牛
03. 夕陽無限好
04. 16月6日 晴
05. 浮誇
06. 葡萄成熟時
07. 三個人的探戈
08. 不良嗜好
09. 怕死
10. 大個女
11. 新美人主義(國)
12. 遇見了你(國) (G弦上的詠嘆調 主題曲)
This new album, U 87(a type of microphone), is Eason Chan's comeback to the music industry after ending his contract woes with EEG. Hoping to let this be a stellar restart of Eason's singing career, Universal roped in Mark Lui, Alvin Leong and CY Kong as producers.
Though there were three producers in this album, the music flow was surprisingly smooth. If you compare U 87 with Eason's previous album, some of you probably find that you are not so into it. In other words, it doesn't excite your sensibilities as it used to. And there will also be others who might think it is a breath of fresh air.
A notable change to Eason's voice is that it is clearer than before. His diction has also improved tremendously. Eason has also shown maturity in injecting emotions to the compositions, no overkill. By the way, I thought Eason was singing with a higher key than he used to.
Despite being categorized as a K song by the HK folks, track02 had little breaks. Hence, it required the singer to hold and not falter. I am impressed when Eason handled it effortlessly. Proving his showmanship and versatility, Eason tackled track05 with ease though it was a very difficult song. However, I didn't like how he rounds off with the falsetto, lack punch.
Eric Kwok, the composer of track03, did a wonderful job. The opening captured the mood of a beautiful sunset and the tingling sensation of bidding something goodbye. The drumbeat and backing vocals however draws back the positivity into the song.
Following the heels of track03, track04 is a light and breezy song. The song was about recollecting events (like a diary) leading up to the breakup. Doing away with convention, there were no outbursts, no heart wrenching and no overt emotional delivery. Having said that, it was endearing.
Speaking of endearing, track06 is the epitome. It gets better and better like vintage wine. A look at the composers' name brought some elation to me. Unfamiliar names, it's like discovering the New World.
Track07 sounds a bit weird at first but it complimented the lyrics. The wizardry of CY Kong's music arrangement deserved applause. Chet Lam pulled in a surprise this time with track08. The frivolous mood of the music in response to the lyrics brought a smile to my face. I thought the "buzzing" sound effect was a great touch. You could almost visualize the girlfriend nagging at the boyfriend. Hehehe.
Track09 is a composition by Mark Lui. Soul Jazz, a genre rarely explored by HK singers. In comparison, it was more adventurous than track02. The "la-la-la" grows on me, couldn't help but tap my feet along with the rhythm. When I heard track10, I thought it was very sweet and warm. Never thought CY Kong would compose something as such. Really like the way Eason rendered the song. It struck a chord with me.
I am always cynical about the Mandarin songs that HK singers include in their albums. But, this time, I simply love track12. Simple and direct lyrics backed by a melodious tune performed by a string ensemble, percussion and piano. And of course, the subtlety and a tinge of forlorn in Eason's voice helped one to immerse into the song easily.
To conclude, I think the art direction of the CD cover didn't do justice to the contents. It just doesn't capture your attention. Still, I am a very happy and satisfied buyer.
Ratings: A+
Monday, June 13, 2005
Album Review
Kay One
, Kay Tse On Kei [CD+MV, Cantonese+Mandarin] 06/05/2005
04. Kay One
05. 姿色份子 Beauties
06. 喪婆 Crazy Woman
07. 我歌…故我在 I sing for I exist
08. 開卷快樂 Joyful Read
09. 悟入歧途 Wayward
10. 臭男人 Disgusting men
11. The One And Only
12. 塑膠玫瑰 Plastic Rose
13. 一人之夏 Summer for one
Kay Tse is a newcomer to Cantopop like Janice and Ivana Wong. However, unlike Janice and Ivana, Kay does not have the massive financial backing that her peers have. Having said so, her debut was launched without much fanfare. Nevertheless, this is just a glitch. Kay's debut album is as refreshing as it gets. Household names like Wyman Wong, Lam Jik, Chan Siu Kei, Keith Chan, Carl Wong, People Mountain People Sea etc are not found in this album. (My bet is the recording company can't afford the fees of these established names).
There are a variety of genres in this maiden effort, ranging from hip-hop, reggae, rap pop to jazz etc. There is a mix of slow tracks and fast tempos ones too. Effectively, it showcased Kay's vocal range making her a credible singer. It is a welcome change to the conservative approach (eg. Molding Kay into a sweetie-pie, singing sugary-sweet tunes or lovey-dovey songs) that most industry bigwigs loved.
Kay's voice sets her apart from her peers. It's strong and has this "rawness" to it. At times, it did remind me of Stephanie Sun. Technique-wise, she still has room for improvement. I got a scare when I heard track07 (我歌…故我在). Somehow, Kay fared better when she sang it again in English (The One and Only). Another commendable thing about Kay's renditions is her diction. I did not have to refer to the lyrics to catch what she sang. Nowadays, most of the singers don't care about it anymore.
Overall, I'm happy about parting with my money to buy Kay Tse's debut album. It exceeds my expectations and proved that there are competent new lyricists, composers and producers in the Cantopop industry.
Ratings: B+
Friday, June 10, 2005
Newcomers of HongKong Pop Industry 2005
Name: Vincent Wong Ho Sun(王浩信)
Height: 186cm
Weight: 165 lbs
Birthdate: 7/7/1983
王浩信-爱你便爱
Name: Charles Ying Cheong Yau(應昌佑)
Height: 175cm
Weight: 165 lbs
Birthdate: 2/4/1979
應昌佑-我是否还爱你
Name: Ivana Wong Yuen Zi(王菀之)
Birthdate: 18/6/1980
王菀之 - 一秒感動
Name: Janice(衛蘭)
Height: 157cm
Weight: 103 lbs
Birthdate: 13/4/1982
Janice-大哥(剧场版)
Name: Kay Tse On Kei(谢安琪)
Birthdate: 13/3
谢安琪-我歌...故我在
Till date, the ladies had released their debut albums whilst the guys only released singles. Lepra wont be commenting on their vocals. If you are interested in how they sound like, do click on the links provided. Have a good time.
Wednesday, March 23, 2005
Getting Close to Candy Lo, Pre-Production
-- an article by Kubert Leung
Prologue
When I saw Issue 536 of "Movie Magazine", I was so peeved. As a music critic, Mr. Chan of the same magazine actually failed to point out accurately the producer of this album ("Get Closer"), going as far as to suggest the heavy involvement of Anthony Wong. This was far from the truth as Wong was only involved in the background vocals on a single track.
As the standards of "music critics" these days further deteriorate, as music criticism is being degraded to an exercise of the "stars" rating system, are music fans becoming less & less discerning? Are they becoming more prone to sitting back and watching such abuse?
The overtaking of the music industry by the success of online music piracy means that we, as musicians and music-lovers, should take a tougher stance against such misleading actions by the media and the press. I can't help but think that it would be much better if us musicians could directly communicate with our listeners through our music, and not through the monster machine of the press. As the producer of "Get Closer", I feel compelled to explain and defend Candy Lo and the concept of the album, and to clarify further its symbolisms and representations.
Don't Have To Be Too Perfect Candy had started her musical career as the leading vocalist of an indie band, and "Don't Have To Be Too Perfect" (her first EP) managed to introduce her rather successfully to the public. We owe this success to Keith Chan and Wyman, for their joint collaboration led to the emergenece of "Trash", long considered a classic. However, what the first EP did was to present a Candy that was borne out of the minds of both Keith and Wyman. In other words, that wasn't the real Candy. The production of this first EP was considered mainstream by the standards of the scene at that time. It was a regret that, thus, with the experiences Candy had had doing music up till then, she did not have the chance to fully express who she was as a person through this first EP.
The success of this first EP, however, consolidated further Candy's confidence in her decision on a solo career after quitting "Black & Blue". On the other hand, without the support of her bandmates and combined with the unfamiliarity of her new working environment, Candy succumbed to her insecurities and often found solace by locking herself up. This was the reason why many out there thought of Candy as being too "proud".
Miao...
Candy had been learning the nitty-gritties of album production ever since her last record. She wanted to be herself in the next album, and to finally allow her talent in music to shine through. Candy thus singlehandedly came up with the concept of the next album and was the sole decision-maker in choosing the production crew. She also wrote 5 of the tracks.
"Miao..." is the call of cat. Candy wanted to project her love of the animal onto the album and to become one with it. It was the first time that Candy, usually unadept at expressing herself through language, would try to speak to the public through her own words. Lyricists like Lin Xi, Zhou Hui Yang managed to capture the spirit of the cat and transposed them to issues like the complicated relationships between people. Candy also recruited musicians like Carl Wong, Edmund Leung, Ah V of Minimal and Keith Chan to add further value and surprises to the music on this next album.
However, this album turned out to be neglected by the Hong Kong public. The so-called music lovers of Hong Kong failed to grasp the concept of the album; more importantly they did not manage to listen with their hearts to the rich music contained within it. It was thus a pity that the public could not appreciate such quality music that spoke of, instead of an island, a world. As a consequence, we heard little of Candy's new songs on the radio, and album sales were more than disappointing.
Getting Closer to Candy Lo.. Pre-production
We were about to work on the next album. There was a problem: We had to follow up to "Miao"'s sense of individuality, and yet we had establish a connection with the mainstream public. We had to produce something that still had Candy's essence in it, but also something that could hit a nerve with mainstream listeners. We wanted to use this next album to erase, once & for all, the image of an "alternative" Candy Lo.
We had to come up with a concept. For many nights, along with her manager, Candy and I camped in her apartment for some very tedious brainstorming sessions. The experience from the last album told us that the mainstream public simply thought that Candy was too "cool". There was too great a distance between her and the mainstream music lovers.
How could we let them learn about Candy all over again? How do you get to know a person? Our concept, thus, was to encapsulate the 5 senses. One had to hear, touch, smell, see, taste Candy. And thus the concept of the next album.
Rising Popularity
Before anyone else got to know Candy, I had to do it. The first time I heard the demo of this song, I was stunned. I was surprised to hear such a flawless and moving demo from Candy. Candy was humming the notes of the song with a very basic, simple melody and some acoustic guitar accompaniment. She was emotional. There I was thinking: then what does she want me for? But then of course I was needed. I could give the song a new twist in my own way, certainly. ;)
Feel The World
This is one of the very rare cheerful songs Candy has ever written. The arrangement by Adrian Chan fitted perfectly with Lin Jia Min's lyrics. William Tang's outstanding harmonica performance is also worth a mention. Chen Shan Ni, Anthony Wong and Ah V dropped by for a visit on the night of the recording of this song and did the background chorus for us. It was racuous fun. After that we went out for supper, laughing the night away and feeling the huge world out there.
Regeneration
Edmond Leung and Candy's powerful and majesstic arrangement sits well with Lin Xi's undeniably good lyrics. Candy, who wrote the song, divided it into 4 segments, deliberately failing to mark out a "chorus". Every part of the song is equally important to her. This was a little hard for many mainstream listeners to fall in love with as it was something different and alien, although the song has its place in the cannon of the art rock in the '70s.
One Millimetre / I Miss Him So Much
The demo was deemed so simple. To be honest we thought this wouldn't work, but Adrian Chan's arrangement saved it and transformed it into a really touching number. The cantonese lyrics by Zhou Yao Hui were so vividly well-written Candy nearly broke down in the studio when recording the song.
Kiss Of The Butterfly
This is one of my favourite compositions by Candy. For this personal reason, I forcefully claimed the song for my own and penned lyrics for it. On the day of the recording, Candy had had to rush to a TV studio for a show. Upon her return she happily announced that she'd received a diamond for a present. She believed it must be the good luck brought about by my lyrics.
Long Night.. My Love Goodnight
We'd wanted to do a cover version right from the start. With this excuse we went to the karaoke on the company's funds. Candy was in such an unusually good mood that night she sang so many songs. When she came to Sally Yip's Long Night.. we knew we had found the song to cover.
Listening To The Song of The Rain
Another Candy composition. The original demo from Candy was actually much more cheerful, but we felt it was more versatile than what it seemed. The end result was a very delicate, unique number filled with unnameable loneliness.
Silk Road
The composer of this song is Daisy Chui, who was then still in school. I loved the song alot. Candy, too, fell for it after she heard it. It sounded too classical and we thought it would be jarring if we added it into the album, for it would seem out of place. After some thought we decided to make it sound even more classical and to add in some electric sounds. The synthesis proved to be successful.
You Are Too Good
Chen Shan Ni wrote the music and the lyrics for the song, combined with the fabulous arrangement by Ah V. Unfortunately the melody of the song was slower than usual, making it harder to be accepted by most listeners.
I Love The Kitchen
Candy could not really accept the song at first, like many more listeners out there. But we felt that we shouldnt have to take music so seriously. It was an important song for Candy as it was the one time she had to overcome her own musical stands and prohibitions. If she could release herself from such stubborn musical preferences, it would also mean a more mature musical career for her.
La La La
There are 2 versions, with the cantonese one included in Candys album. We spent most of the time taiwan eating instead of recording, actually.
Trash (chinese ver.)
People often compare this to Trash. We hate that, but its unavoidable. I personally prefer this chinese version.
Afterwords
After the album was released, many simply focused on Candys sexy image without considering the link between this new Candy and the concept of the album and what we had to say with our music. I had always thought that art was better left unexplained, in order for there to be a bigger space for interpretation, but no one ever told me that the lack of explanation meant that people wouldnt bother to go to the extend of thinking through what your art means. Do people really take the release of albums as a sort of homework or routine exercise by the preening recording industry? Does that mean Candys hard work in the studio would all go to waste? Ive never met another singer like Candy who would get her manager to push away everything on the schedule just to work on every single bit of the album production. Every single bit of it. She would stubbornly insist on the tone and quality of every background instrument, she would painstakingly pick up the guitar and start playing for the sake of demonstration, to express what she truly means. Sometimes I am thinking, perhaps Candy is too good for Hong Kong. Does Hong Kong deserve her?
written by Kubert Leung
article translated by Shane
Saturday, March 19, 2005
The most recognised face of HongKong's DIY musician.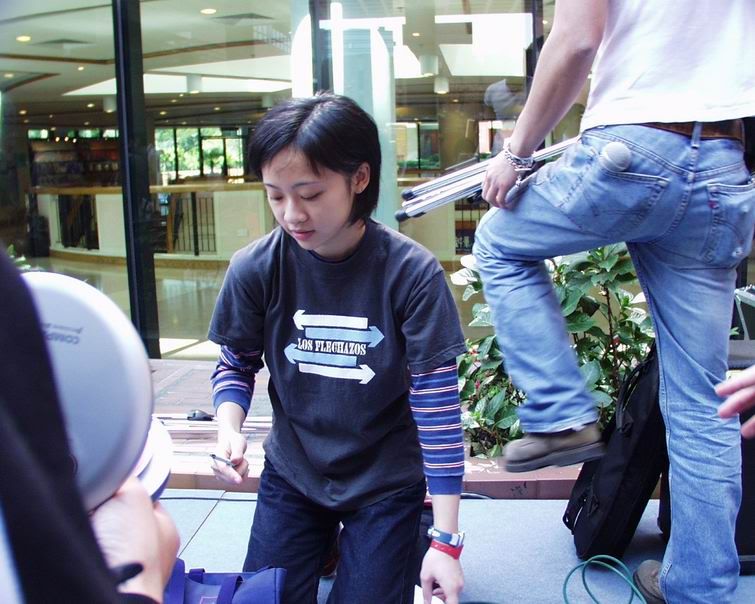 The Pancakes
, a household name in Hong Kong's music even though it differs from the mainstream pop, is actually a solo effort by Dejay.
Dejay is the brains behind the acclaimed cartoon McDull's OSTs and the voice for Ms Chan Chan (hope that rings a bell). Little is known about her private life. All she would reveal is that she works as a librarian in the day and she graduated from University of Hong Kong. She reasoned that she has given most of her time to music-making, the mundane job will help keep her life balanced.
The Pancakes was derived from a song that Dejay loves and no, she's not particularly fond of pancakes. Dejay doesn't like the hassle of producing albums for local labels, she hates the "time-wasting" brainstorming sessions and meetings. She also prefers not to have jamming sessions with peers because she decided that she is demanding and domineering when it comes to music- making. Another quirk of Dejay is her dislike for being photographed and the use of her Chinese name.
Till date, The Pancakes has released several albums. Her debut album was produced with her savings and it caught the attention of a Spanish recording label. Now, The Pancakes' albums enjoy a niche market in Europe and Japan.
The Pancakes has kept busy by organising concerts, writing columns in journals, dabbling in OSTs for McDull, providing background music for commercials and performing at concerts.
This news site is not affiliated with either Yahoo or Sing Pao News and is simply a fansite created for HK Entertainment fans throughout the world. Images and original reports are the copyright of the appropriate owners.
HK Ents News Roundup is a non profit-making site. Copyright 2003 © All rights reserved.